Meet our new GPT Bot: your API Security testing assistant
Read Time:
3 Minute, 46 Second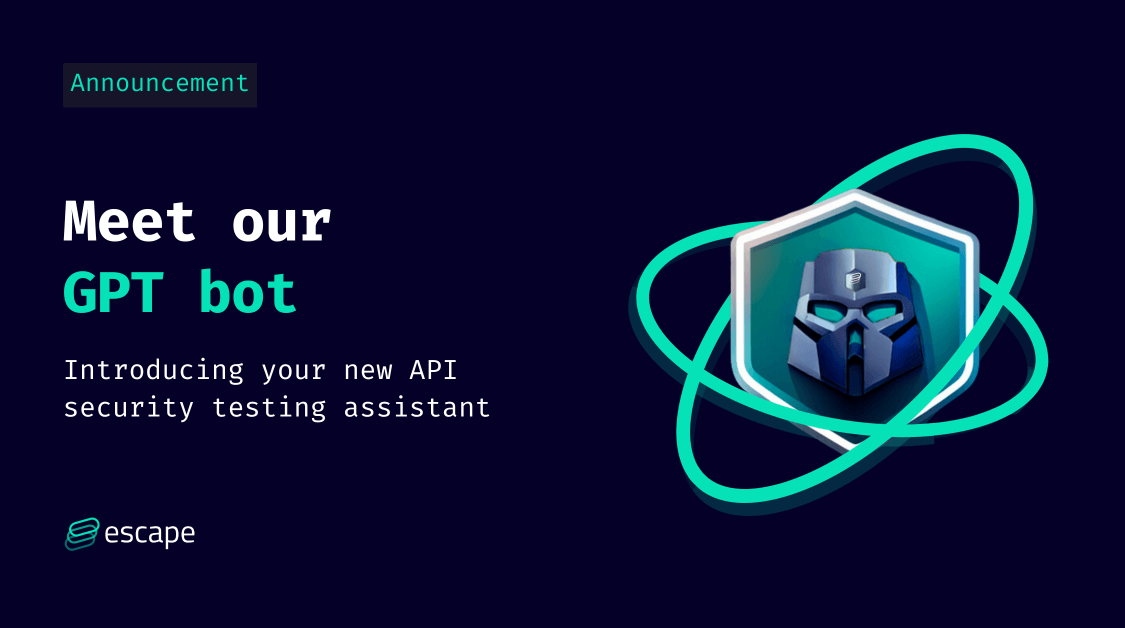 Hey there 👋 We've got some exciting news to share with you today!
We're thrilled to introduce you to our brand-new API security testing assistant: the GPT Bot "API Guardian".
Are you tired of spending endless hours proactively looking for the best practices to test and secure APIs? Well, your search is over! Our GPT Bot is here to simplify and streamline the entire process for you.
What is the GPT Bot, and how can it help you?
Since last week, OpenAI has been letting anyone create their own version of ChatGPT.
We've jumped on the hype train and decided to combine our API security expertise with ChatGPT's artificial intelligence.
Our GPT Bot's sole mission is to assist security engineers like you learn more about testing and securing APIs. It's your friendly, 24/7 little helper that can provide guidance, answer questions, and suggest best practices.
Here's how it can make your life easier:
1. Instant expert guidance
Need quick advice on how to perform a security assessment for your API? The API Guardian GPT Bot has got you covered! It can provide instant guidance on various security testing methodologies, including OWASP's API Security Top 10, and help you understand the ins and outs of API security.
Here is an illustrative example of the advice provided on securing Apollo GraphQL:
It doesn't only provide you with a detailed reply but also recommends relevant links to the most useful Github repos.
2. Personalized recommendations
No two APIs are the same, and our GPT Bot understands that. It can analyze your specific use case and provide tailored recommendations for securing your API. Whether you're dealing with authentication, authorization, encryption, or any other aspect of API security, the GPT Bot can provide guidance tailored to your needs.
3. Stay up-to-date
API security is an ever-evolving field, and it can be challenging to keep up with the latest threats and best practices. The GPT Bot constantly updates its knowledge base to ensure that you're always armed with the most current information and strategies to protect your APIs.
💡
If you think that your organization's documentation or a personal blog must be included in the bot's knowledge base, feel free to
reach out to us.
At Escape we value the power of community and are always looking to make things better.
4.Don't miss AI-generated API security jokes
We've decided to make our GPT Bot not only helpful but also funny (as far as you can go with AI-generated jokes, though). As a result, after each response, we hope to bring a smile to your face.
How to access the GPT Bot
We've made it incredibly easy for you to access and use our GPT Bot. Simply click on the link below to get started:
💡
Unfortunately, for the moment, access is limited to ChatGPT Plus users.
Once you're on the GPT Bot's page, you can ask questions, seek guidance, or request API security testing recommendations. We've also integrated Escape's documentation, so it can give you a hand on using Escape as well. It's like having a security expert at your fingertips, ready to assist you at any time.
Why should you trust our GPT Bot?
We understand that security is of utmost importance, and you may have concerns about relying on an AI-powered bot for such critical tasks. Rest assured, our GPT Bot has been rigorously trained on the latest industry standards and best practices for API security. It's been designed to provide accurate and reliable information to help you protect your APIs effectively.
Your feedback matters
We're committed to continuously improving our GPT Bot to meet your needs better. Your feedback is invaluable to us. If you encounter any issues, want to add your material to the knowledge base, have suggestions for improvement, or simply like to share your experience, please feel free to ping us on Twitter @escapetechHQ or join our Discord community.
In conclusion
We believe our GPT Bot will be a valuable addition to your toolkit as a security engineer. It doesn't replace invaluable API security tools like Escape, but it can be a great resource to learn more about API security testing and will save you time and effort in your daily tasks.
So, what are you waiting for? Give our GPT Bot a try! Click the link below to access the bot:
We look forward to hearing about your experiences and how our GPT Bot has made your job easier and more efficient.
Stay secure!
Your Escape team
Source: https://escape.tech/blog/api-security-gpt-bot/
---
You might also like this video