Business Strategy Tips for Livecoding.tv Developers – How To Earn Money with Private Videos
Read Time:
1 Minute, 58 Second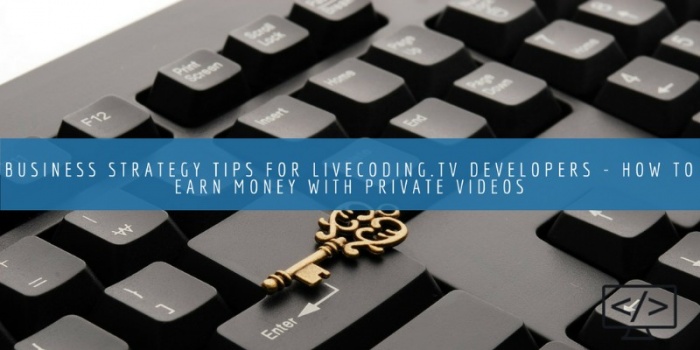 You have skills and experience as a programmer. You can create apps or write code that can help companies make money. And there are people who follow your live streams and are influenced by your abilities as a mentor. They want to learn from you.
LiveEdu/Livecoding can help you turn all of that into a paycheck. But the obvious question is, how?
With our site, you can make your top educational videos private, available only to specific users who you can then charge for access.
And, you can set up 1:1 paid sessions with people who want to learn from you, letting you build up a mentor relationship with them. That means regular traffic, and income, for you.
But as with any business, the key is to get customers into your (virtual) store, which means growing your brand on LiveEdu/Livecoding.
Start with making a good section of your videos public. This is like window shopping – you want the potential customer to have a good idea of what you offer, but you want to keep some of the best merchandise (your private videos) inside. You need that customer to come in the door, or in this case you want them as a regular viewer of your livestreams and videos.
Some simple steps to gain viewers include keeping your skills up-to-date, showing multiple facets of your abilities, and keeping a regular schedule of streams and videos.
Once you have established yourself, you can use our hiring system to set up those private sessions, and that means income for you. And since you have to approve the users who can take part in these sessions, you know your audience is the one you have targeted.
When you are ready to take this step, there's one more item that should be on your checklist:
Making yourself a Pro on LiveEdu/Livecoding. If you operate a store, you want to make your advertising look as professional as possible, to let the customer know you are serious. Our Pro membership works just like that on our site.
Your skills have value, and there is a huge potential customer base out there for you. LiveEdu/Livecoding can help you connect with them, and help you make money.
Comments or questions are welcome in the section below.
Source: https://educationecosystem.com/blog/earn-money-private-videos/
---
You might also like this video