Delicious Brains in Vienna: Our Second Annual Company Retreat
Read Time:
6 Minute, 54 Second
A few weeks ago, our team descended upon Vienna, Austria for our second annual company retreat and WordCamp Europe. After last year's retreat around WordCamp Miami we had decided that we should attend a more developer-focused event like LoopConf, but the idea of visiting an awesome city like Vienna was too much to resist.
We also decided to make this year's retreat a team-only event. Last year we had our significant others with us and a couple of babies. It was a company retreat but also sort of a family vacation. It was great to meet everyone's partners but all the logistics were more challenging with twice the people. We also wanted to schedule some work sessions without feeling guilty we were leaving our partners in the lurch. And finally we wanted to stay a couple of days longer as we found our trip was a bit short last year.
Planning
In October 2015, I booked a rooftop apartment in the center of Vienna, just a 5 minute walk to the WordCamp Europe venue. We would check-in Tuesday, June 21 and check-out Monday, June 27.
Closer to the event I set up a Google Doc with all the accommodation details and some FAQs like what was covered and not covered (flights, accommodation, food, and drinks were covered like last year). I did some research on things to do in Vienna and added a section to the doc with ideas and invited the team to comment on them and add their own ideas.
About a week before the trip I made some decisions on what we were going to do each day and put together a daily schedule. Nothing was set in stone of course, but at least we'd have some pre-made decisions so we weren't always wondering what to do next. Here's the schedule:
Tuesday 21
6:10pm Flights arrive
Transportation has been arranged, so once everyone clears customs, look for a sign with "Delicious Brains Inc."
6:45pm Team arrives
Dinner (takeout)
Chillin'
Wednesday 22
Breakfast (in)
8am Work

Support catchup
Break out into product teams
Weekly product meetings but in-person
Company meeting
Product work

12pm Lunch (in)
Walk about, check out some of the sights, visit museums, admire architecture, etc
4pm Watching Austria vs Iceland at City Hall Square (Rathausplatz, 15min walk)
Dinner – order food and drinks while watching the game
Thursday 23
Breakfast (in)
8am Work

Support catchup
Product work

12pm Lunch (in)
Bike tour of Vienna (app guided)
Dinner (out)
Likely a hosting company throwing a party
Friday 24
8am WCEU Registration start
9:15am Opening remarks
Lunch provided
4pm WCEU day 1 finish
Catch up on support / Basketball? / Relax back at our apartment
6pm Dinner (in)
Likely a hosting company throwing a party
Saturday 25
9:15am WCEU day 2 start
Lunch provided
4pm WCEU day 2 finish
Catch up on support / Basketball? / Relax back at our apartment
6pm Dinner (out)
8:30pm WCEU after party start
Sunday 26
9:30am Contributor day start
Lunch provided
4pm Contributor day finish
Catch up on support / Basketball? / Relax back at our apartment
6pm Dinner (out)
Relax at the apartment or go out? We'll see how we feel.
Monday 27
8am Brad off to the airport
11am Check out time
The Apartment
Wow, what a nice change from last year. I don't think we could have had a better place to stay. The rooftop apartment turned out to be as good or better than advertised. Everything was clean and the views were spectacular.
Especially at night.
It had 4 bedrooms with 2 beds each, so plenty of space for the 7 of us. We could have actually fit 1 or 2 more people in comfortably. The common area was big and bright. It had a nice big table that was a perfect fit for the whole team to work on support together.
I'm pretty sure the air conditioning in our apartment was the best in Vienna too. We had it cranked and it was like a meat locker in there. The air conditioning everywhere else we visited was weak and it was still very hot, sometimes hotter than outside (36C/97F). Our apartment was the only refuge from the sticky heat so we felt very fortunate for that.
We missed the pool and pool-side BBQ from Miami, but hey, can't win 'em all. The apartment was as close to perfect as we could have hoped. It was even fun seeing how many we could squeeze into the tiny elevator to the roof.
Highlights
It was really nice to all work together at the same table in the mornings, catch up on support, and have impromptu discussions.
We did realize that it's next to impossible to focus and get some coding done when we're all sitting at the same table. I'm pretty sure that the company would be bankrupt by now if we all worked in an office together.
On Wednesday evening we went to a park (Rathausplatz) to watch soccer. Austria was playing Iceland in Euro 2016. We had drinks (some of us had a few too many) and food. It was kind of like a little festival and a very cool atmosphere to take in.
On the way to the park we took a roundabout route and took in some of Vienna's amazing architecture. On Thursday, we walked around some more and hopped on the Ring Tram to cover more ground and learn about the sights of Vienna.
The church dating back to the 11th century was particularly neat.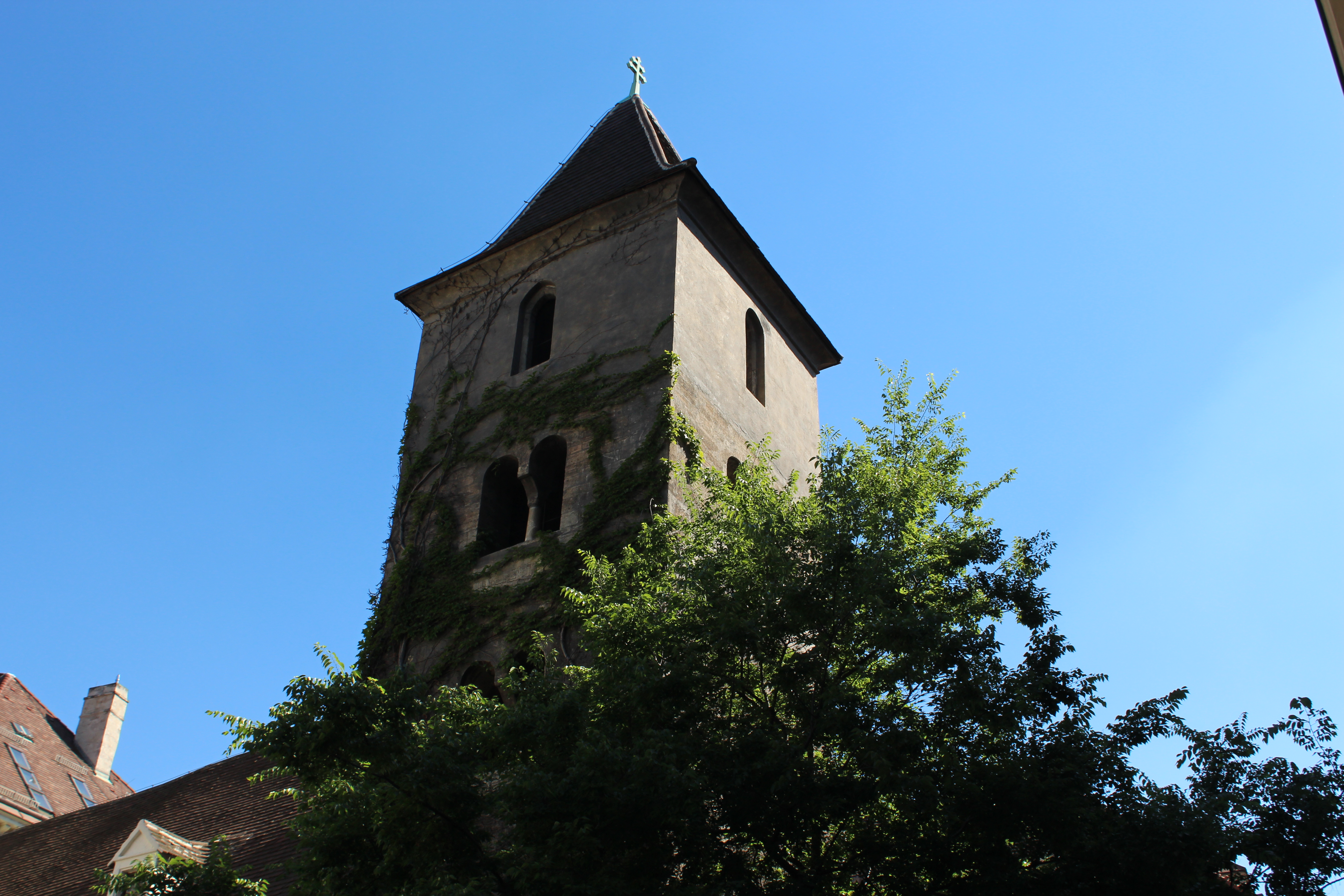 We had an awesome schnitzel dinner at Biem Czaak on Thursday night.
The Museum Quarter was an awesome venue for WordCamp Europe. If the air conditioners could have handled the heat better, it would have been just about perfect. It was really hot. Brian Krogsgard's interview with Matt Mullenweg was excellent, but I almost had to leave to get some oxygen. A packed auditorium didn't help the heat situation. Our team spent a good portion of the camp having beers on the patio just outside and chatting with other plugin authors.
We decided to go back to Biem Czaak Saturday night and invite some friends to join us. Good times.
We had a great time at the WordCamp Europe ball. We figured it would end around midnight, but it just kept going. We headed back to the apartment around 3:30am and picked up a snack on the way.
Although we didn't dress up for the ball (because of the heat), we did use our dress clothes for dinner at Distrikt Steakhouse Sunday night. Great meal that everyone enjoyed despite being exhausted (I look like a zombie in the 2nd photo!)
Costs
All of the costs were very similar this year except for the accommodation. Last year we had to accommodate 6 couples and 1 single, so it required a much larger place.
$3,858 Accommodation
$2,312 Food / drink
$5,993 Flights
$855 Airport Transfers/Parking
$266 WordCamp Tickets
---------------------------------
$13,284 USD

Next Time
We found that WordCamp encroached on our time together as a team so we discussed having our next retreat on its own, rather than around a WordCamp or any other conference. Just choose a location, make the trip, and hang out. And maybe invite some other plugin teams to join us.
I'd also like to plan some activities next time and follow through. In Miami we had planned to go paddle boarding but decided to be lazy by the pool instead. Then this year we had planned a bicycle tour of Vienna but some of the delicate snowflakes I call team members derailed that plan for fear of melting in the heat.
We've also decided to do a regional team meetup once a year so that we meet up more often. The North American contingent is planning to attend WordCamp US in Philadelphia this December and the UK folks are still deciding what they'll do.
Overall this retreat was a great time and I think an improvement over last year. I'm really looking forward to next year.
Source: https://deliciousbrains.com/vienna-company-retreat/
---
You might also like this video